Published Saturday, April 22, 2006 by C. Phillips.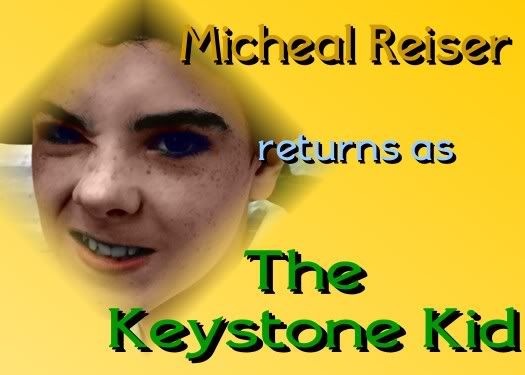 ---
Micheal Reiser aka The Keystone Kid is set to appear in his OWN silent film! Cohen Phillips and company went on location today to do screentesting of other actors for the "Keystone Kid film."
After seeing people the cast was chosen right on the spot! Everyone that audition has a role in the film and shooting looks to take place next Saturday. The cast as it stands now are...
Micheal Reiser-The Keystone Kid
Amy Vance-His Love Interest
Sam Danley-The Keystone Kid's younger brother
Shannon Hays-The Keystone Kid's REAL girlfriend
Taylor Vance-The Other Love Interest
Quite a mixed group of characters huh? Character names and story are still being polished but cameras will role on the next silent film next Saturday! Pictures, interviews and more with the cast/crew next weekend!
________________________________________________
A note about Jennifer Niztband's silent film-The film did not shoot when it was schedule because of a family emergency. All is well now and things are shaping up with the film with a start date looking at the start of May or perhaps sooner. More info on this film later.
Published Sunday, April 02, 2006 by C. Phillips.

Jennifer Nitzband and Cohen Phillips met today to go over the story and think up some gags for the next silent film that Cohen will be shooting next weekend. Jennifer will be playing Ruby, Arthur's latest gal pal. Story details are kept hush-hush for right now. But look out for more info and pics next weekend when shooting happens!
Arthur(Cohen Phillips) meet Ruby(Jennifer Nitzband)