Published Sunday, March 28, 2010 by C. Phillips.

I am going to
participate in this year's Script Frenzy. Anyone can do it so check out the site! It's free and going to be a lot of fun. Basically it's writing a 100+ page script in the whole month of April. :-) I've been lucky enough to find, she really found me, a writing partner Kelly Johnson.(Heat On The Street)
So by the end of April we'll have a feature film length script done! A good writing exercise in creativity. I'll try and post and keep this blog updated through out the month of Apr
il.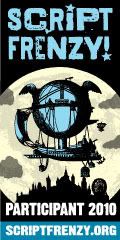 Labels: Cohen Phillips, Kelly Johnson, screenplay, script, script frenzy, writing