Published Thursday, April 12, 2007 by C. Phillips.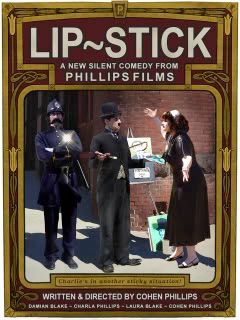 Lip-Stick our newest silent film shot on Super 8 is now online for your viewing pleasure. It was a lot of fun making it and I hope you'll enjoy it. This was one of the films that was shown last week at our premiere. The rest of the films shown will find there way online soon.

It's divided into 2 parts.
http://www.youtube.com/watch?v=8tDTSvGTkXg Part 1
http://www.youtube.com/watch?v=OjkV-aV3I_s Part 2

In this silent
film we find the "little fellow" up to his old tricks. But along the way he meets a girl named Ruby that really "sticks" to him.
Find out what happens in this tribute film to the great Charlie Chaplin.
(This being the 30th Anniversay of Chaplin's death 1977-2007)
SHOT SUPER 8! This is a "REEL" FILM folks!
Cast-
Damian Blake-The Little Fellow
Charla Phillips-Ruby
Laura Blake-Wanda
Cohen Phillips-Arthur
Published Monday, April 09, 2007 by C. Phillips.


Well everyone I'm happy to report that our premiere this past Thursday(April 5th) went great! Pretty much all the cast/crew from the films we were showing made it out. Plus a couple of people I hadn't seen in awhile! It was great re-uniting with everyone again and hearing the audience reaction to each film. We showed Lip-Stick, Swindling Charade, Classroom Liaisons and Love Lifted Me.(which the pic above is about)
They really reacted great all around and I think they enjoyed what they saw. We also had this as a fundraiser for my father and I'm happy to say people were very generous with their donations. Thanks again everyone for making the evening so great!


Here is a link for some photos from the night's events. I think a few more people were snapping pics so we might have more coming soon. :)
http://www.flickr.com/photos/phillipsfilms/
The films that were shown that night will be making there way online soon. Swindling Charade is already online to view.